Why is our Web Hosting WordPress ready?
When looking for somebody to host your website, it's essential to ensure that your web hosting provider's servers are configured correctly to provide the best experience.
We completely understand that it is critical to make sure you are happy, and that your users are getting the best experience whilst browsing your website. In addition to using a Content Delivery Network or using a service such as CloudFlare, we ensure you are able to achieve the fastest speeds for your website.
Out of the box, we checked with PageSpeed Insights to see what a basic install of WordPress would achieve in our WordPress Web Hosting environment.
With both Mobile and Desktop, our website registered 100 / 100. We have kept the website live so you can check yourself at this link.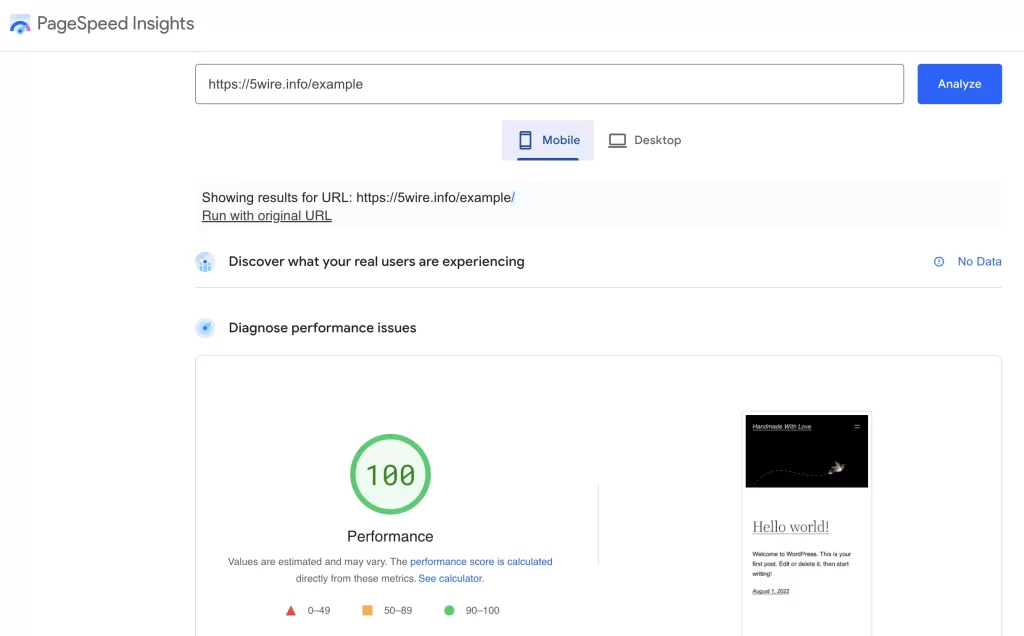 Remember – it's not all about trying to score a perfect 100, but most search engines including Google focus their SEO listing based upon mobile useability given that mobile makes up the majority of searches!
Now, we know that an out-of-the-box WordPress installation is not necessarily a fair way nor a realistic measurement for PageSpeed Insights scoring because you are going to install your own theme, customise the layout, and add plugins, images, and whatever else you may have in mind!
However, what we are demonstrating here is that we are giving you a great foundation (like a house) with our Web Hosting. With good quality foundations, designed specifically for building high traffic WordPress websites, our Web Hosting will provide you with peace of mind that your website is in safe hands.
Our servers are configured to maximise delivery of your content. Have in mind that any third party code you add to, your website will likely impact the score, but in this case you are starting from the top!
Check out our blog to learn how to optimise WordPress and get recommendations on our favorite plugins!